WORMSINFECTED IS THE PORTFOLIO OF A GRAPHIC DESIGNER BASED IN SINGAPORE NAMED IRENE.

ABOUT
NAME IS IRENE / 10.10.1989 / BORN IN JAKARTA / LIVING IN SINGAPORE

AWARDS & SHOWCASE
TOP STUDENT AWARD IN RDI 2009 / ONE OF THE FOUNDERS OF DESIGNSUTRA ONLINE MAGAZINE / FIRST RUNNER UP, FUTURE TALENT AWARD 2009 / SHOWCASED AT SDF09 - PORTFOLIO SHOWS FOR YOUNG DESIGNERS 2009

BIBLE TYPOGRAPHIC POSTER
Philippians 4:4-7
"Rejoice in the Lord always; again I will say, Rejoice. Let your reasonableness be known to everyone. The Lord is at hand; do not be anxious about anything, but in everything by prayer and supplication with thanksgiving let your requests be made known to God. And the peace of God, which surpasses all understanding, will guard your hearts and your minds in Christ Jesus."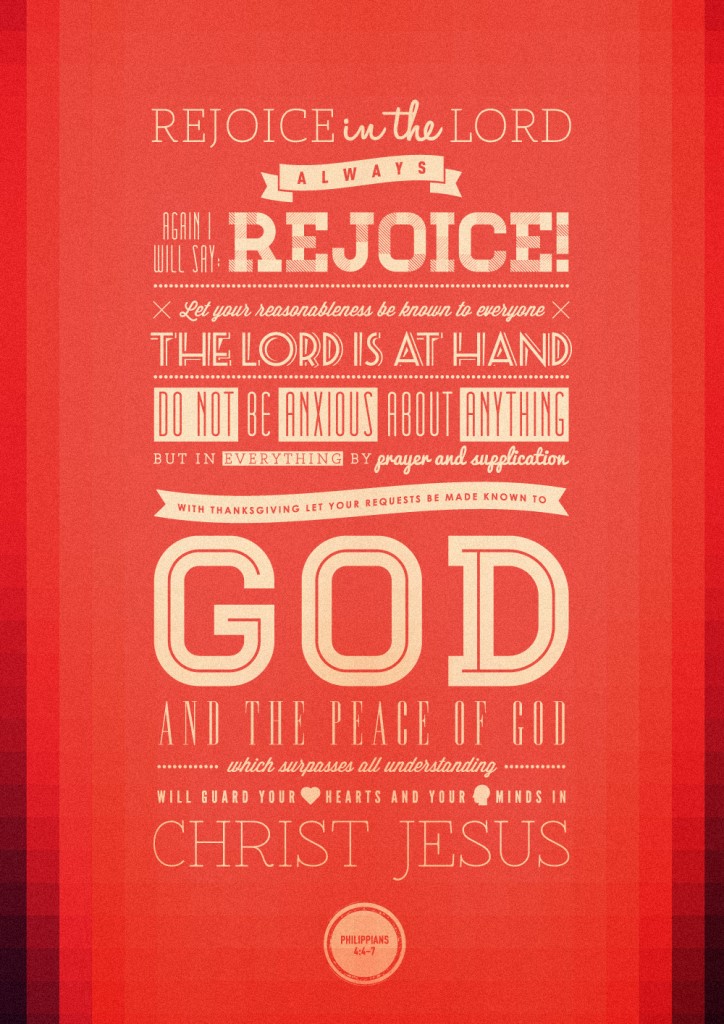 0 Response to "BIBLE TYPOGRAPHIC POSTER "
No comments yet.
RSS feed for comments on this post. TrackBack URL
Leave a comment